The Compound Management process has changed significantly since I started working in discovery research as a medicinal chemist in 1978. This part discusses change and software:
PART 3: seeing the other side
The other side: internal to external software
Changing in-house solutions for external ones
As I described earlier, programming and maintaining all the in-house custom Compound Management software required a lot of resources. In 2010, my company decided that this was not sustainable and embarked on a programme to transition from our custom system to commercial compound management software. We transferred to web-based software, and in the process made the software easier to support by concentrating on areas of known issues. No new functionality was added during this period and the porting of software was done on an Agile basis.
Agile methodology focused the important areas to resolve in the time available. Indeed, the HTS software was not ported during this period as it did not generate as much support as other applications. This became the first company Compound Management (CM) application to be transitioned to Titian's Mosaic compound management software.
With the amount of work in the internal Inventory programme, we had already evaluated external software vendors and had chosen Titian Software. Mosaic was not totally new to the company and, at that time, was being used in the downstream process to make plates being sent to assays.
Working at Titian Software
I moved to Titian as a Technical Application Consultant in 2012, having worked in big pharma for 33 years. Before moving, I had worked with colleagues across the world at different sites. Titian gave me the opportunity to expand on that and work with many companies across the world from big multinationals to small start-up biotechs. At all of these companies, one is working at the personal level with the scientists in the laboratory, as well as working with the project team.
Given the diversity of customers, it is not surprising that their needs and requirements can vary enormously, not to mention the sheer range of automation equipment being used. However, they do also have core needs in common, such as:
immediate knowledge of stock levels and sample location
integration with laboratory instrumentation
full audit trail
As someone who has worked as both a customer and an implementor, I have found that Mosaic software's reliability, flexibility and integration with 100+ third-party vendor instruments allows it to cope with this huge variety. It can be set up as a large multi-site global ordering installation, a smaller pre-configured Mosaic SampleBank, or an out-of-the-box, cloud-based Mosaic FreezerManagement installation. Although both SampleBank and FreezerManagement start pre-configured for rapid deployment, the software's modularity means both can be customised or upgraded to meet particular needs.
Even compared to our final in-house software, using Mosaic makes it very easy to find what samples are available to use in a particular order. Global Ordering means you can view availability – not just at one physical site but across the whole company – and place your order seamlessly to the appropriate site(s). Mosaic's Assay Requesting module allows you to add a list of compound identifiers to all or a selection of assays at the same time. The software and Compound Management team will manage the rest to deliver the order in the most efficient way.
Keeping up with change
Because the Mosaic software is a kind of industry standard for compound management, it is continuingly evolving to bring new features, be it with hardware or processes. Change comes in many ways. One example is via a conversation with a vendor partner. Labcyte's Echo acoustic liquid handling technology (which is now part of Beckman Coulter Life Sciences) is widely used across the pharmaceutical industry.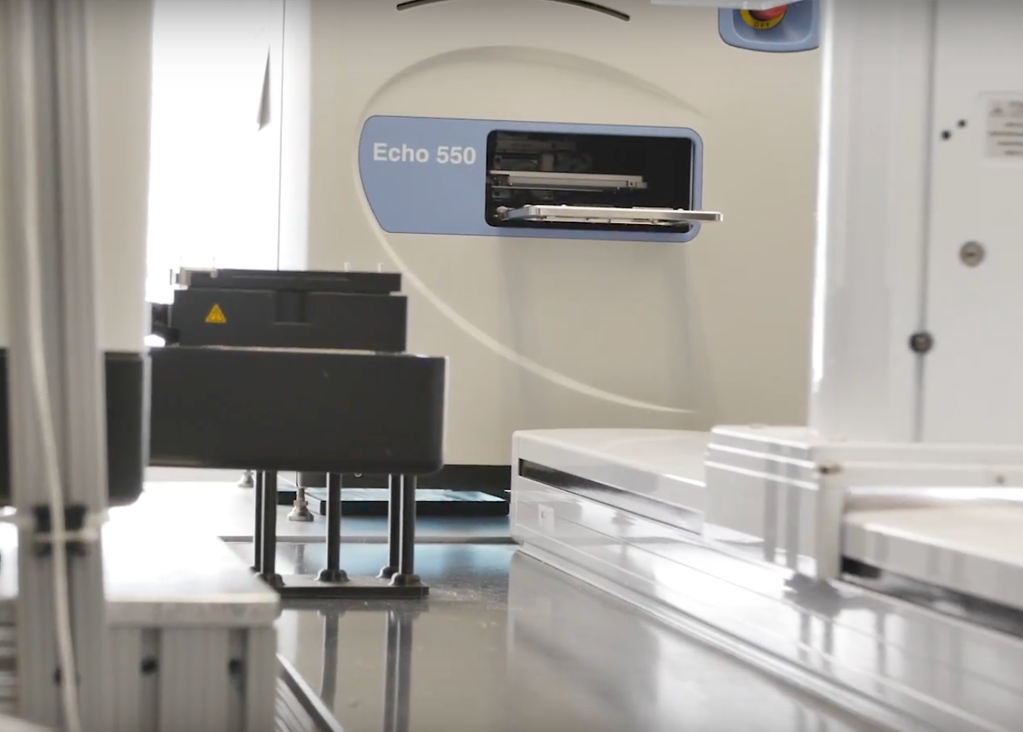 The Echo very accurately transfers discreet fixed-volume droplets of liquid to produce an output plate. Because the minimum droplet size is 2.5 nL, the resulting dose-response curve may differ from an idealised curve depending upon the dilution series being used. The initial Mosaic integration picked up acoustic transfer failures but produced an idealised output curve. Initially this was not considered an issue as often the error of the determined purity of the samples themselves was much greater than this error. However, with ever increasing improvements in sample purity and measurement, scientists became concerned about the inaccuracy. This could be reduced by designing custom dilution series within Mosaic, but this was not ideal. What was needed was the exact curve produced by the Echo to be reflected in Mosaic – which is now the case for both the stand-alone Echo and the more tightly integrated Labcyte Access. Both are now part of an advanced and fully integrated acoustic workflow at a major pharma company.
Read our acoustic workflow blog for further details.
In fact, Mosaic's integrations with many liquid handlers make them easier to control, prepare and manage without the need to write scripts.
Watch our VLSH video to see how easy Mosaic makes controlling your liquid handlers.
In summary, my time as a Technical Application Consultant at Titian has allowed me to work with many companies, both big and small, which I really enjoyed, and to help them to achieve their goals. I wouldn't be honest if I said that it wasn't hard at times, but often those difficult conversations or challenges turn out to be the most rewarding!
Download our white paper
Download our white paper: The Essential Guide to Managing Laboratory Samples
In any case, consider talking to one of our Titian experts – there is a better way to manage your samples!