As a Software Engineer - Francesca Popa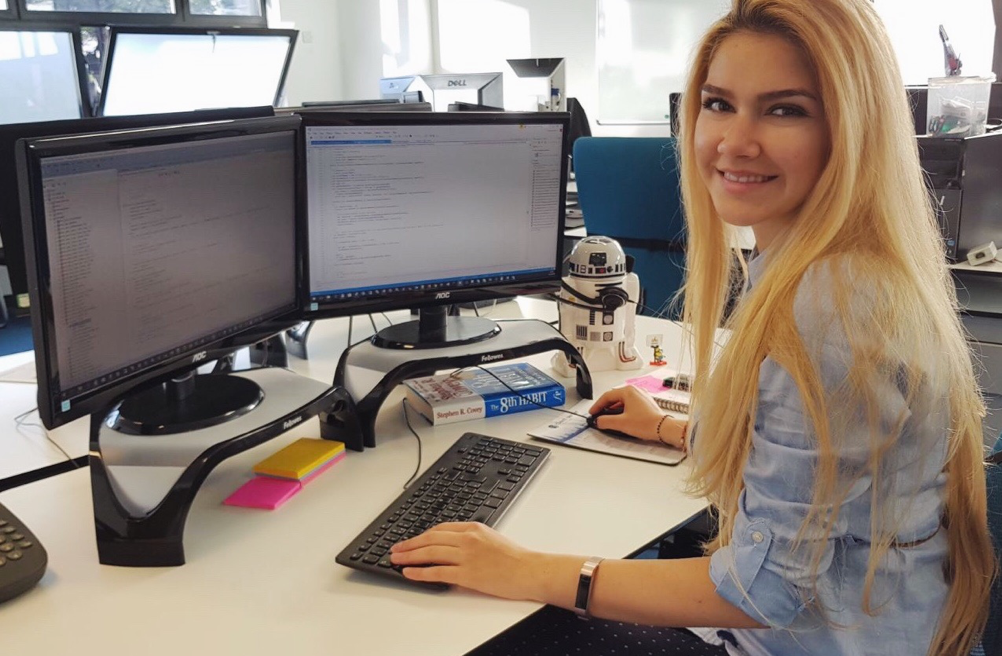 What is your role at Titian Software and when did you join the company?
I'm a Software Engineer and I joined the company almost three years ago.
What does your role involve?
I'm part of a five-person team and I'm working on the existing functionality but at the same time enhancing and adding new features to the system. I'm also the Scrum Master of my team and my role involves organising and managing the work to make sure we reach our goals that we initially commit to. As part of my responsibilities, there is also chairing the Change Advisory Board, where we discuss change requests coming from customers. I make sure I organise the requests and do some preliminary investigation when needed, so we can discuss and prioritise them efficiently with the Board. With this role, I got a better idea about the whole business itself and our relationship with the customers, and this helped me a lot improving my knowledge about the system.
What were you doing before joining?
I finished my computer science degree back in Romania and after that I came to London. I worked in a completely different environment in a digital media company. I was part of the technical team and I was working on building their own CMS (Content Management System) from scratch. It was a quite small technical team, so I wanted to change and joined Titian.
How does Titian Software differ to other companies you have worked for?
To be fair, things are really well organised here and this is what I was looking for. When there are procedures and standards that are followed by everyone, the deadlines and goals are easier to reach. You rely on the fact that people around you are following the same procedures as you know so there is a consistency in how processes are performed. This facilitates quality control too which is quite important in software development.
How has Titian Software helped you in your career development?
In my career development I think Titian meant everything to me. Here I learned what team work means. I actually do Scrum in the right way, in contrast with my previous company, where we had the idea of Scrum but wasn't practiced really. Here you can go through the whole software product lifecycle from developing the front-end and back-end infrastructure until you get a product released to the customer. You can interact with the whole process, which is really nice and keeps you challenged.
What do you enjoy most about working at Titian Software?
I think the best part is the diversity of work and all the challenges that are coming along every day. Mosaic being a big and complex system, there are always new things that you can learn, even after three years of interacting with the system. The company is often organising events and meetings and there are always new things that you can improve and learn about, and I like this a lot. I like the feeling that you go home and feel accomplished and happy about having achieved something that day.
What advice do you have for candidates applying for a software engineer role at Titian Software?
Let me tell you what I thought when I joined the company. When I've got to the end of the presentation as part of the interview, I felt like I could be a small piece of the big picture where scientists are doing their research in pursuit for drug discovery. And I was like: yes, this is what I was going to do. You feel good that you work on and you improve a system that is used after that by scientists and researchers. It's really nice!
What do you like to do outside of work?
I'm quite an active person outside of work. I'm part of a volleyball league and I try not to miss any week of practice. I like running and reading in my spare time and I also like to travel when I have the chance. Just go away and see the world.
What's the most interesting thing about you that we wouldn't learn from your CV?
I don't think that you'll learn from my CV that I'm quite enthusiastic about what I'm doing. This will sound weird, but I like problems because I like to find solutions. When testers find a bug, I'm that kind of person who gets excited about investigating and solving it.