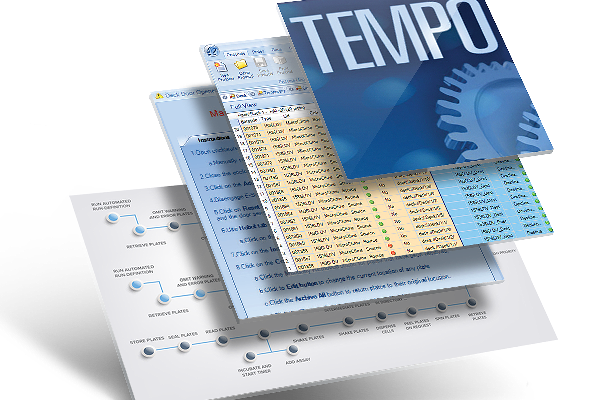 The new Mosaic Tempo™ Fulfilment Module (TFM) software completes Phase 1 physical testing with Labcyte and Titian Software
Using the new Tempo Fulfilment Module (TFM) to integrate Labcyte's Access directly with Titian's Mosaic software gives sample managers easy access to their acoustic liquid handling tools, and avoid issues with handling the new data stream these provide.
To demonstrate this, the new TFM has completed its testing to ensure:
It generates run definition files that Labcyte's Tempo loads automatically
It performs end-to-end Echo dose response runs with the direct dilution volumes calculated automatically
It drives bulk fillers to dilute samples or add solvent controls
It processes and runs Mosaic acoustic tube and acoustic source plate orders end-to-end to generate assay ready dose response plates; all transfers are completed and processed by Mosaic
It updates inventory volumes and concentrations updated automatically and accurately, including error scenarios such as insufficient volume
Sample management groups can use the TFM to fulfil workflow steps best-suited to the Labcyte acoustic platform in a user-friendly and intuitive manner. The work is presented in Titian's Mosaic software and requires only a handful of operator steps to complete
More information on the current functionality is available from our application note entitled: "Using the Labcyte Echo Liquid Handler and Access with Mosaic Sample Management Software"
Labcyte and Titian enjoy a collaborative partnership where methodologies are designed in tandem to produce a reliable, versatile and intuitive integration between our two platforms.
You can learn more about the Tempo Fulfilment Module (TFM) here.
Get in touch with Titian's sample management experts.
About Labcyte
Labcyte, a global biotechnology tools company headquartered in San Jose, California, is revolutionising liquid handling. Echo® liquid handling systems uses sound to precisely transfer liquids without contact, eliminating the use of pipettes. Labcyte instruments are used worldwide throughout the pharmaceutical and biotechnology industries, as well as by hospitals, service laboratories, contract research organisations, and academic institutions. Our customers work across a wide spectrum of scientific research, including drug discovery, genomics, proteomics, diagnostics and personalised medicine. Labcyte has 60 US patents and others internationally.
For more information, please visit www.labcyte.com
About Titian Software
Founded in 1999, Titian Software supplies software and consultancy to improve sample management and inventory logistics for life science research. Mosaic is Titian's customisable, modular software to control and monitor all aspects of sample storage and preparation for compounds, reagents and biologics. Companies worldwide, from small biotech to global pharma, trust Mosaic to provide a seamless, error-free sample supply chain. SampleBank and FreezerManagement provide optimised and pre-configured subsets of Mosaic available for rapid deployment.