Drug Discovery is a long and challenging process frequently represented as a series of linear and equal steps, which produce likely candidates for clinical trials.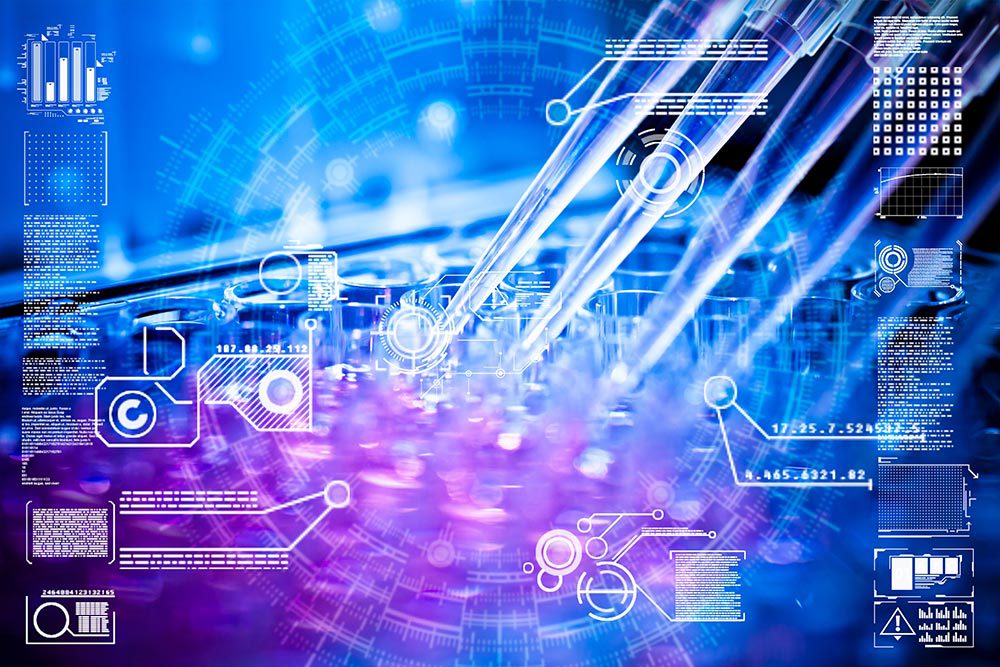 Traditionally, it is the Lead Optimization step where a promising lead molecule is turned into a clinical candidate. However, a lead molecule is not yet a drug. It needs to have lots of properties other than a positive effect on a biological target: no side effects, no toxicity, not be too rapidly metabolised, to mention just a few.
Lead optimization is often considered to be one of the longest phases of drug discovery. It requires many tests need to be done, often in parallel, in order to verify the molecule's effects and understand its Structure-Activity Relationship (SAR). Having an efficient logistics system is important – the faster you can get through the optimization cycle, the more effective the lead discovery process overall.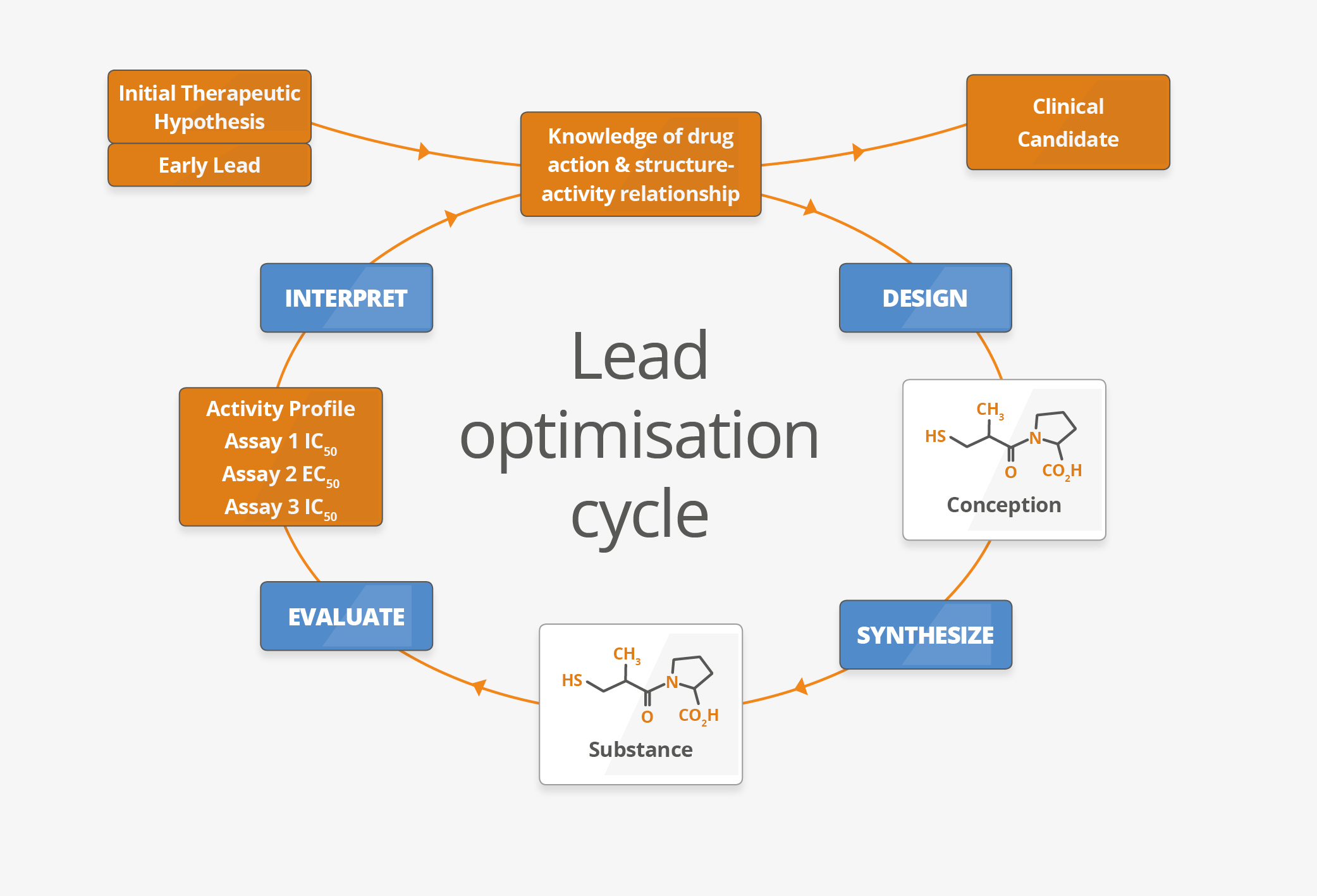 Assay requesting challenges for the bench scientist
As part of the lead optimisation process, project optimisation strategies will define a set of assays to be run on each lead molecule. Some assays may be shared with other projects (for example toxicity and metabolism assays) and some assays are nice to have if sufficient substance is available to run them but are not critical.
This is where efficient logistics and sample ordering is essential. For example, do you have an easy mechanism for bench scientists to request and receive reports on the following common needs?
Is there sufficient sample stock available in the organisation's distributed inventory to run all selected assays? If not, which assays will be delayed?
Can I restrict use of my lead molecule to essential assays or teams only?
Can I specify how my assay plates are formatted?
Have any of the substance/assay combinations I need already been requested or are in progress?
Can I get an overview of how my assays are progressing?
Assay scheduling challenges for sample management
In the process of fulfilling assay requests from scientists, there are logistical challenges in how to optimise sample, labware and equipment use to run the requested assays most efficiently, and how to report progress. For example:
Are these assay requests part of a weekly pattern or exceptional?
Is there enough sample stock available in the organisation's distributed inventory to run all selected assays? If not, which stock needs to be updated?
Can I combine several assay requests into one batch to give sample and process efficiencies?
Can I hold back some samples from a batch to be run later, when I can combine them for processing in full plates?
Can I flag assays where a certain number of samples have been exceeded? Or a minimum number not reached?
If the sample management team and the bench scientists can use the same inventory software for requesting and fulfilling assays, then it becomes easier to optimise tasks and report progress.


Managing the assay requesting process
Managing the lead optimisation cycle often focusses purely on the data gained from each of the assays. However, I feel this is an oversight. As the questions above show, there are significant process challenges to be met to run and report on assay progress – and significant efficiencies to be gained by optimising how and when these assays are run.
In order to meet this need, Titian Software have developed an Assay Requesting application as a part of its Mosaic sample management LIMS software specifically to simplify managing, optimising and reporting on assay scheduling. With this application, operators can decide and prioritise when to release items from the Assay Queue into consolidated fulfilment workflows which ensure efficient use of reagents, assay platforms and consumables.
---
Assay Sample Management: Find out the integral role that Titian's Mosaic software plays in rapidly providing reliable data sets required for screening here.
---
Mosaic Assay Requesting for the scientist
Mosaic Assay Requesting software simplifies the process for submitting substances to multiple assays at the same time – for both the requesting scientist and the sample management operator. Using it, each project can pre-define the selection of assays used for their optimisation process.
Scientists are presented with a Substance vs Assay grid, shown below, to choose which assays they require in a few clicks. Not all the substances need to be submitted to the entire selection of assays.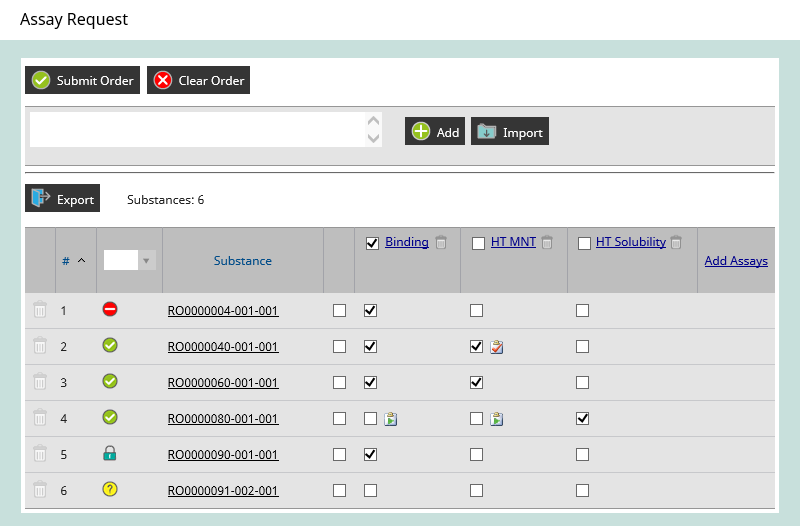 Mosaic software runs an availability check of the inventory in the background, which immediately informs the requesting scientist whether the assay can be performed or not. It confirms:
Whether there is sufficient sample available to run all selected assays
Whether any restriction approvals are required
If any substance/assay combinations have already been requested or are in progress, to avoid duplication
This feedback allows the scientist to adjust their request before submitting it. In addition, if there is insufficient solution stock available, but there is neat stock, then Mosaic can initiate restocking.
Once the order is submitted, the software feeds the assay request into the Assay Queue. The requesting scientist can follow the fulfilment progress at a high level to see which substance/assay combinations are In Progress, Complete, and so on.
Mosaic Assay Requesting for sample management
For the sample management operator, Mosaic Assay Requesting saves time by collating and aggregating all of the assay requests into an Assay Queue (shown below).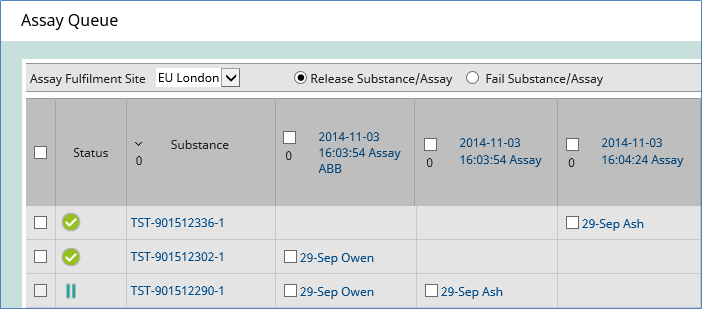 Operators can decide and prioritise when to release items from the Assay Queue into consolidated fulfilment workflows which ensure efficient use of reagents, assay platforms and consumables.
Titian is working on further updates to the Assay Requesting application that will include options to:
automatically release assays from the queue according to a schedule
automatically release a batch when there are enough samples to produce a specified number of full assay plates (or multiples thereof); and holding back the remainder until more samples are available
Assay Requesting benefits go beyond lead optimization
For Sample Management operators, Mosaic Assay Requesting software seamlessly combines many assay requests into the appropriate fulfilment orders, giving operators control on how to most efficiently use their assay platforms, reagents and consumables to perform the assays.
For scientists, the Assay Requesting application gives greater control and visibility. It allows scientists to submit multiple compounds to multiple assays in one operation. In the simplest case every sample goes to every assay, but this can be customised if required. Scientists have real-time visibility of assay processing as well as the availability of substances and whether a combination has been requested previously, thus avoiding wasteful duplication of the assay run.
Such assay requesting and scheduling software is a powerful tool to drive cost savings and efficiencies, while reducing workloads – not just for the lead optimization stage, but across the whole of lead discovery.
Watch our Assay Requesting video