Providing a route to efficient and flexible technology for Evotec and its partners

Evotec is leading the way in the growing number of companies that apply acoustic workflows as a means of improving screening efficiency in drug discovery. These acoustic workflows have just gone live at Evotec, who have worked closely with Beckman Coulter Life Sciences, Azenta Life Sciences (formerly Brooks) and Titian Software to adapt the lab automation and software integrations to fit Evotec's processes.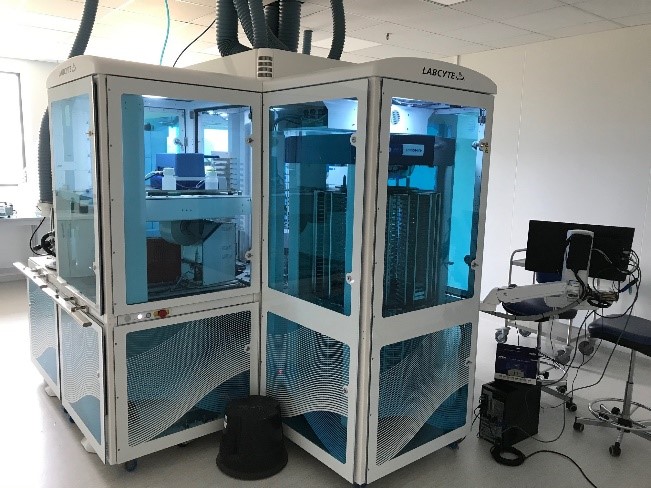 Evotec plans to leverage acoustic workflows for its own research as well as to the benefit of its many customers and partners.
These benefits include:
Faster turnaround time for screening cycles
Higher quality of screening data gained from the accuracy of acoustic dispensing and the reduction of human error
Reduced lab waste and environmental impact from miniaturising assays, reducing DMSO use and eliminating tip use
Increased efficiencies such as higher density storage and extended sample use
"We believe that acoustic workflows offer the drug discovery industry a route to improve the efficiency of drug discovery screening cycles" said Olivier Casamitjana, SVP Head of Global Compound Management at Evotec.
"Evotec's partners can continue to rely on cutting edge sample management as well as drug discovery and development services that will meet their future needs thanks in part to applications like acoustic technologies".
Validation of acoustic workflows at Evotec
As part of its rigorous evaluation of acoustic workflow technologies, Evotec has been validating the effects of acoustic labware use for long and short term storage; as well as the impact of freeze/thaw cycles and Echo acoustic dispensing on compound integrity. This assessment will finish in April 2021, but preliminary results show that acoustic tubes work well under Evotec's in house environmental conditions and help to avoid unnecessary freeze/thaw/seal/reseal cycles of adjacent samples on a source plate.
"Obviously we cannot fully comment before the evaluation is completed, but the results so far are promising in terms of improved sample integrity. We plan to present the full results at the end of the study" said Olivier Casamitjana, Evotec.
Meeting future drug discovery needs through partnerships
Evotec's sample management team is one of the largest in the industry at present and it has one of the longest standing partnerships with Titian's Mosaic sample management software. This is important because the Mosaic software is the glue that fuses inputs from lab automation from Beckman Coulter and Brooks into one smooth functioning acoustic workflow system. For more about the integration, read our blog
The streamlined acoustic processing will add to Evotec's ability to deliver its customers' diverse requirements. For staff, it means they can continue to work with the familiar and reliable Mosaic interface, which minimises the need to interact with many different robots.
Using acoustic workflows has the benefit of delivering a great deal of flexibility in collection management, including:
High throughput and high capacity for cherry picking plate creation
Reduction of compound consumption through nano volume delivery
One step dose response preparation in nanolitre volumes
Improved data integrity through removing errors and improving consistency
How acoustic workflows were developed
Fully acoustic sample management workflows were pioneered by AstraZeneca, working in partnership with Beckman Coulter Life Sciences, Azenta Life Sciences, Tecan and Titian Software to achieve the necessary integration of automated processes.
These acoustic tube workflows went live in November 2019 and AstraZeneca describe their subsequent success in reducing waste and improving screening efficiency here >>