Chapter 2
Integrating Liquid Handlers
There are a wide variety of liquid handlers used in labs and they can perform complex tasks. Some are completely custom, but most are standardised and so are likely to have APIs (Application Programming Interfaces) that provide an easier route for tighter integration. Some level of integration is always possible, which we will explore using our three scenarios:
Scenario One: Simple one way integration – data import and processing
As mentioned above, simple file import integration is best suited to non-workflow driven processing for simple repetitive tasks, such as solubilisation of samples to a standard volume and placing them in a store.
For liquid handlers, this might be when you are comfortable writing your own protocols/ scripts to run the equipment for your own processes, but you still want to track the samples created, plus update the source samples. For example, if you are running simple replicates where you can write your own protocol to run the liquid handler. It is good practice to update the source data when adding the new samples and their history to your inventory.
Inventory information can be updated and recorded in your LIMS by importing a data file which contains the transfer information from source to destination. While it is simple to create a process to import data files, do not forget the file needs to be verified for errors (such as trying to transfer more volume than is available in the source container or using a barcode that is already being used in your inventory). Error checking can be the difference between an integration that works and one that needs continual editing of the data.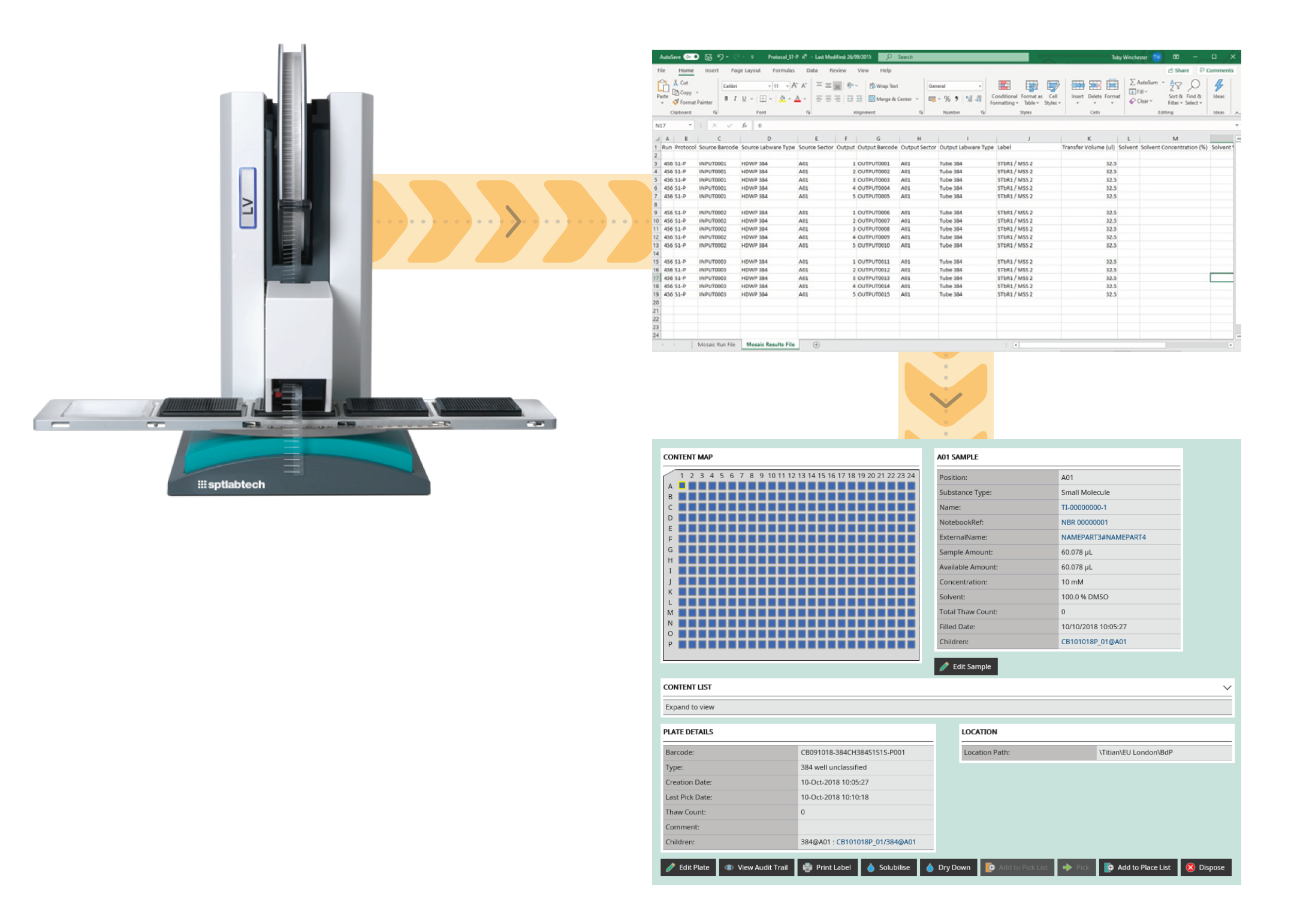 The imported data file should also allow you to record the instrument used to do the work, how much substance was consumed, any transfer failures, sample parentage, when it was done and by whom. This information is essential to create an audit trail, which may also need to be 21 CFR part 11 compliant. Having a full audit trail information in your LIMS helps to troubleshoot, should a problem be spotted.
In addition to a verified file import of transfers, your sample management LIMS should allow you to create new samples directly from a source within the user interface. For example, to create child tubes and plates, or to solubilise/dry down tubes and plates. Again, this process should include full audit trail information.
Questions to consider when considering file import integration for liquid handling processes are:
How much automation do you use or are you likely to use?
Do you prefer to write your own protocols, or do you have staff using the instruments who are less comfortable with automation?
How many of your processes are simple, and how often do you use complex ones?
Do you want to standardise processes across comparable instrumentation?
What information should you record in inventory to meet compliance needs as well as for efficient processing? Are you recording everything you need to?
What verification processes are used on the data passed? Importing a file is simple, but validating data to ensure reliable results is essential but more complex.
Scenario Two: Workflow led integration by verified file exchange
Consider performing a more complex task where you want to solubilise a sample to make a tube stock solution (and store it), create a plate from the solution stock, replicate the plate and dispatch the replicated plate as well as tracking all the changes as they happen.
While each these actions could be tracked using the file import integration from scenario one:
It would require forethought and planning to manually work out the individual process steps, for example just to calculate the solubilisation volumes
You would need to track how far through the overall process you currently are (and hence what to do next) as there is no overall workflow to tell you
These processes are time-consuming, making them inefficient, and prone to human error particularly if more than one person does the work, which will affect data quality
This is where the workflow management component of a LIMS becomes of real value.
Workflows and LIMS
With a workflow in place, it is possible to validate in advance if the sample processing is physically achievable, for example:
Is the solubilisation tube large enough to prevent overflow?
Is the volume of solution created larger than the sum of the amount to be dispensed in all transfers plus the dead volume of the selected tube?
What equipment is available to perform the process steps?
What are the max volumes, min volumes and dead volumes associated with each instrument and tip type?
As well as providing validation, a workflow can be used to guide the operator through the process steps required to complete the work. As each step is completed, the workflow will update inventory and adjust subsequent process steps as appropriate.
For example:
Are there multiple options for solubilisation?

If so, the operator should be able to choose which to use at the time of processing. The workflow should provide the appropriate data for whichever method is chosen.

What if the sample does not solubilise?

This failure should be reported to inventory and no transfers performed to any subsequent plate well(s).

Where in the overall process are the samples?

The workflow should show you where in the overall process you are, and what to do next; for instance, whether samples are currently in the process of being solubilised or waiting to be cherry picked to create a plate.
File exchange and LIMS
Verified file exchange integration allows accurate two-way communication between your LIMS and laboratory instrumentation, whilst the operator still sets up and runs the instruments.

The steps involved are:
Exporting a file from your LIMS (for instance a cherry pick list) containing information required by the liquid handler to perform its processing. It is normally a manually initiated process to create the file.


The liquid handler carries out the processing and a results file is created.


Importing the results file from the liquid handler to your LIMS can be done either as a manual process or a semi-automated file sweep.


Verifying the file during the import process to ensure the data returned is valid and is consistent with the expected workflow, before updating your inventory. If there are any issues, the data import process is paused. The issues are displayed to the operator for review or action.

The operator can then either accept warnings or fail the entire run, as appropriate, the results of which are recorded in inventory. Examples of verification failure would include:

Any errors reported by the instrument, for example a failure to transfer
Any deviation beyond a threshold from the expected values, for example because the wrong protocol was run on the instrument
Invalid source barcodes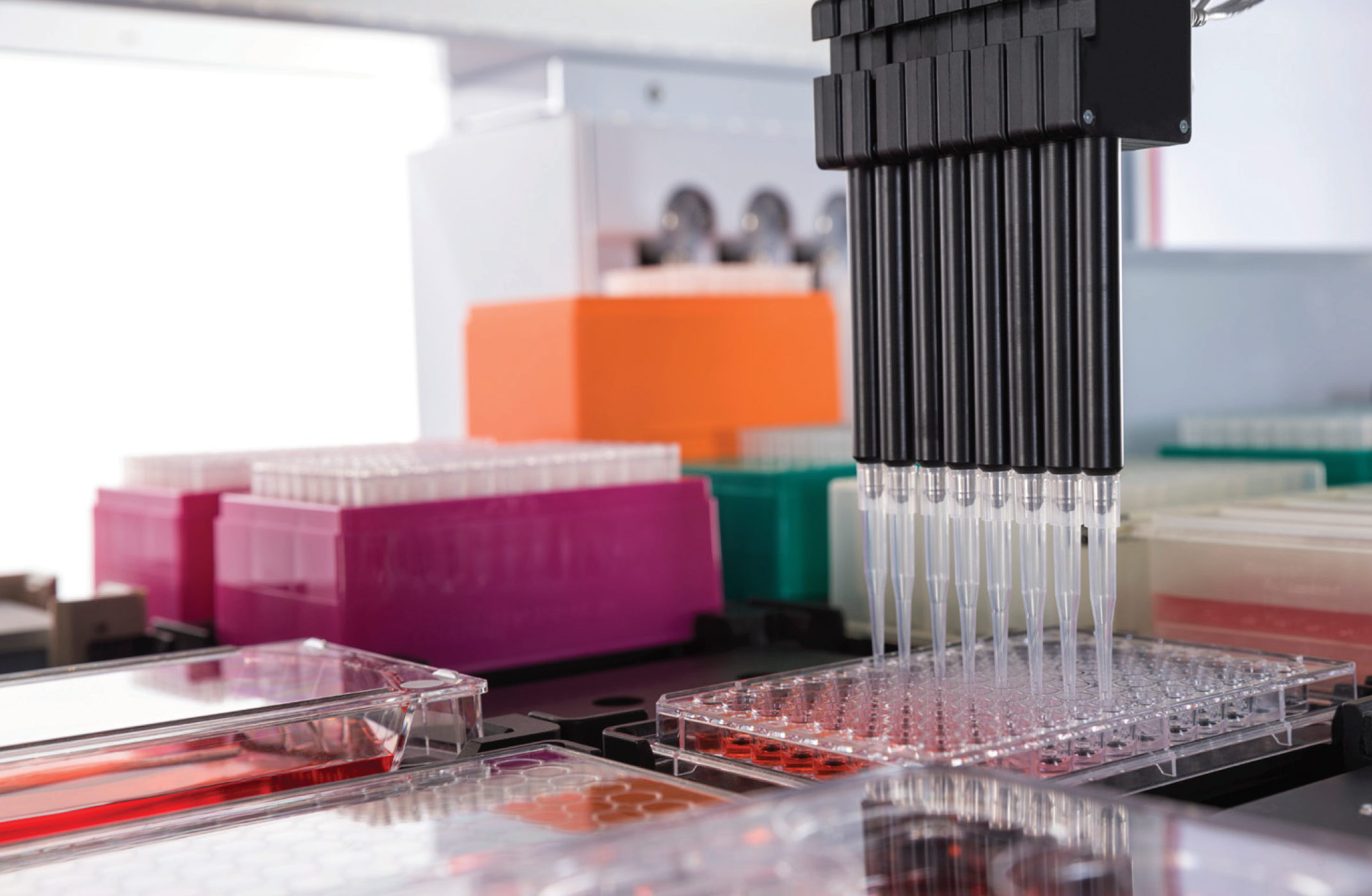 Because of the large variety of vendors and liquid handling instruments available, there is a move to using standardised generic Export/Import file formats for file exchange integration. However, if this file format does not fully fit your needs, there are multiple file manipulation software options available to create custom file manipulations to customise things to your exact requirements.
File exchange plus
Whilst verified file exchange will commonly use generic formats, if a specific instrument is very common you could expect to import that instrument's output file directly into your LIMS. This integration could be considered as file exchange plus. A good example would be the Beckman Coulter Life Sciences Echo platform, which is widely used across the life sciences industry. The Echo produces a standard XML output file across its complete range of applications. A verified file exchange plus integration would import these files directly and update inventory accordingly, removing human error in updating inventory.
Questions to consider for verified file exchange integration:
How many operators and instruments are you supporting in the lab, and what are the sample processing throughputs? The larger the numbers the more efficiencies are likely to be gained from greater levels of integration.
Are your liquid handling instruments from one vendor or multiple vendors? Different vendors will have different user interfaces which you will need to train your operators on.
What file formats are available for the liquid handler? Are they standard or customisable?
Scenario Three: Driven instrument integration
Liquid handlers can perform multiple operations in a single run, such as solvent addition, mixing and solution transfers, as well as possibly containing other integrated devices. Such systems require complex setup in order to perform a run. In a busy lab, often what is needed is the ability to walk up to an instrument, be prompted for the required labware, push a button, and then walk away knowing that your LIMS has worked out all the transfers and volumes for you, and instructed the equipment on how to run following your standardised methodology.
Driven integrations replace a lot of manual work by automatically calculating what should be done by each liquid handler and directly providing exact pipetting instructions, including volumes, sources and destinations for transfers, as well as monitoring success or failure and handling overlapping workflows.
In driven instrument integrations, the LIMS software communicates directly with liquid handler to provide instrument protocols based on the workflow. Data from the instrument is picked up in real time. However, the instrumentation must have an API to allow two way communication, such as those provided by Tecan, Hamilton, SPT Labtech, HighRes Biosolutions and so on. The parallels between file exchange and a driven integration will also apply to a wide range of laboratory instruments with an API.
Examples of file exchange and driven integrations include the Beckman Coulter Life Sciences Echo acoustic liquid handlers. The standalone Echo can only be integrated to the file exchange plus level as it lacks an API. The Access robot system acoustic liquid handler platform adds an API (via the Tempo software) making tighter direct integration possible.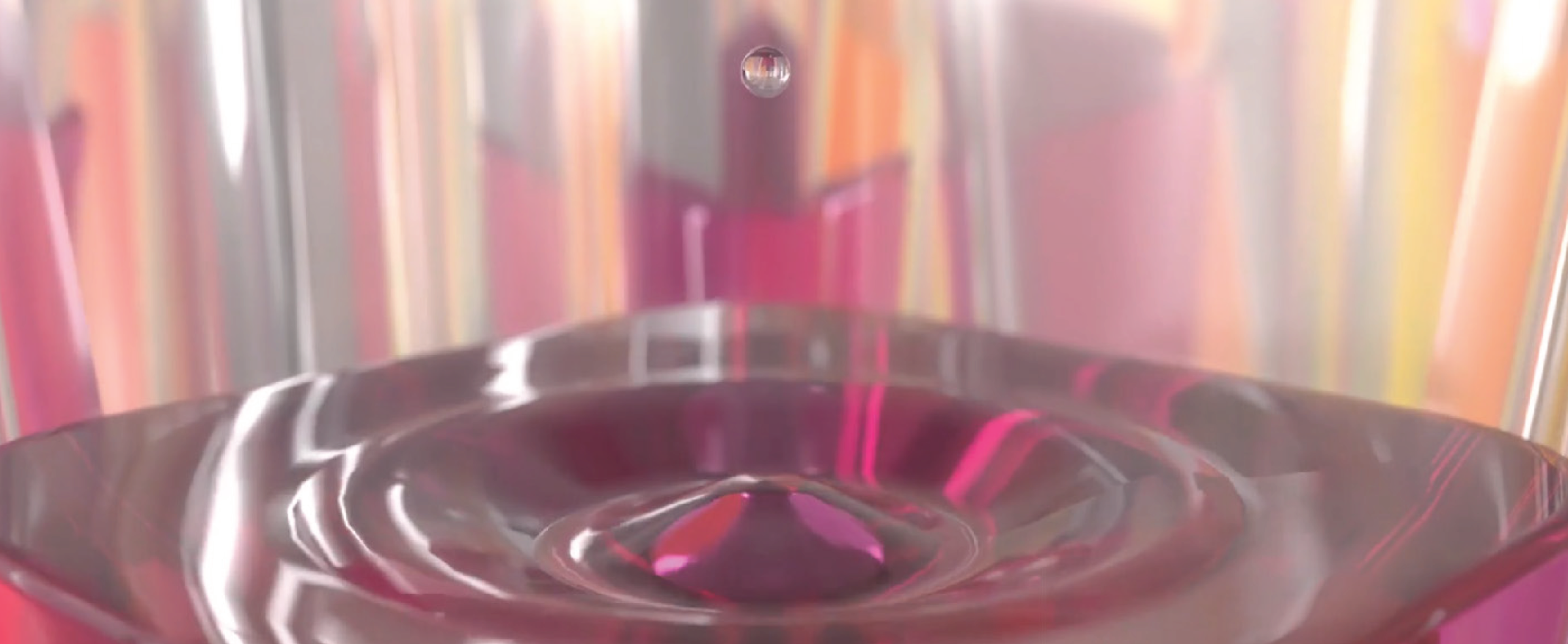 A fully driven liquid handler workstation integration should be able to:
Remove the need for operators to know how to write the appropriate protocol to run the instruments. A driven integration will create and run those automatically through:

Supporting multi sequence operations
Understanding tip types and when to change disposable tips, wash fixed tips, etc
Knowing when a volume exceeds a tip's volume and be able to calculate the most efficient number of aspirations and dispenses required (e.g. when using a 200μL tip to move 500μL from a 600μL max volume source tube)
Knowing when using full or half plates, where Controls and Standards should be added

Work across a variety of similar instruments from different manufacturers

Standardise methodology across multiple instruments and/or sites to minimise process variations

Determine if two or more orders have compatible requirements so they can be processed together, to improve efficiency

Handle failures (due to a power cut, for instance) so that a run can quickly be resumed and that your inventory is only updated with the transfers that actually occurred
All of these will result in in overall efficiency benefits.
Producing a driven integration, with its real-time two way communication between systems, takes time to analyse, plan, collaborate, develop and deliver and is thus expensive as a bespoke option. However, many of these integrations have already been done by vendors and are available as packaged solutions which optimise development timelines.
The tight coupling between instruments and LIMS required for driven integration is sometimes viewed as inhibiting the process flexibility required to meet changing project needs. However, with good planning, this should not prove to be an issue. Making sure your driven system can cope with the flexibility that you are actually going to encounter is something that should be reviewed during the integration selection.
Questions to consider for driven integration are:
How much flexibility do you need in your system and in which areas? For example, how many variations of plate layouts/dilution series/top concentrations do you need to handle? Greater variety gives greater possibility of human error, which can be removed through tighter integration
What throughputs do you need to achieve over the next few years?
Does your liquid handler have an API to enable a full, driven integration?
How many operators and instruments are you supporting in the lab? The larger the numbers the more efficiencies are likely to be gained from tighter levels of integration.
Are your liquid handling instruments from multiple vendors? Different vendors will have different user interfaces you will need to train your operators on.
Would a driven integration allow you to perform longer unattended runs by benefiting from the ability to combine many smaller jobs?


Integrating Liquid Handlers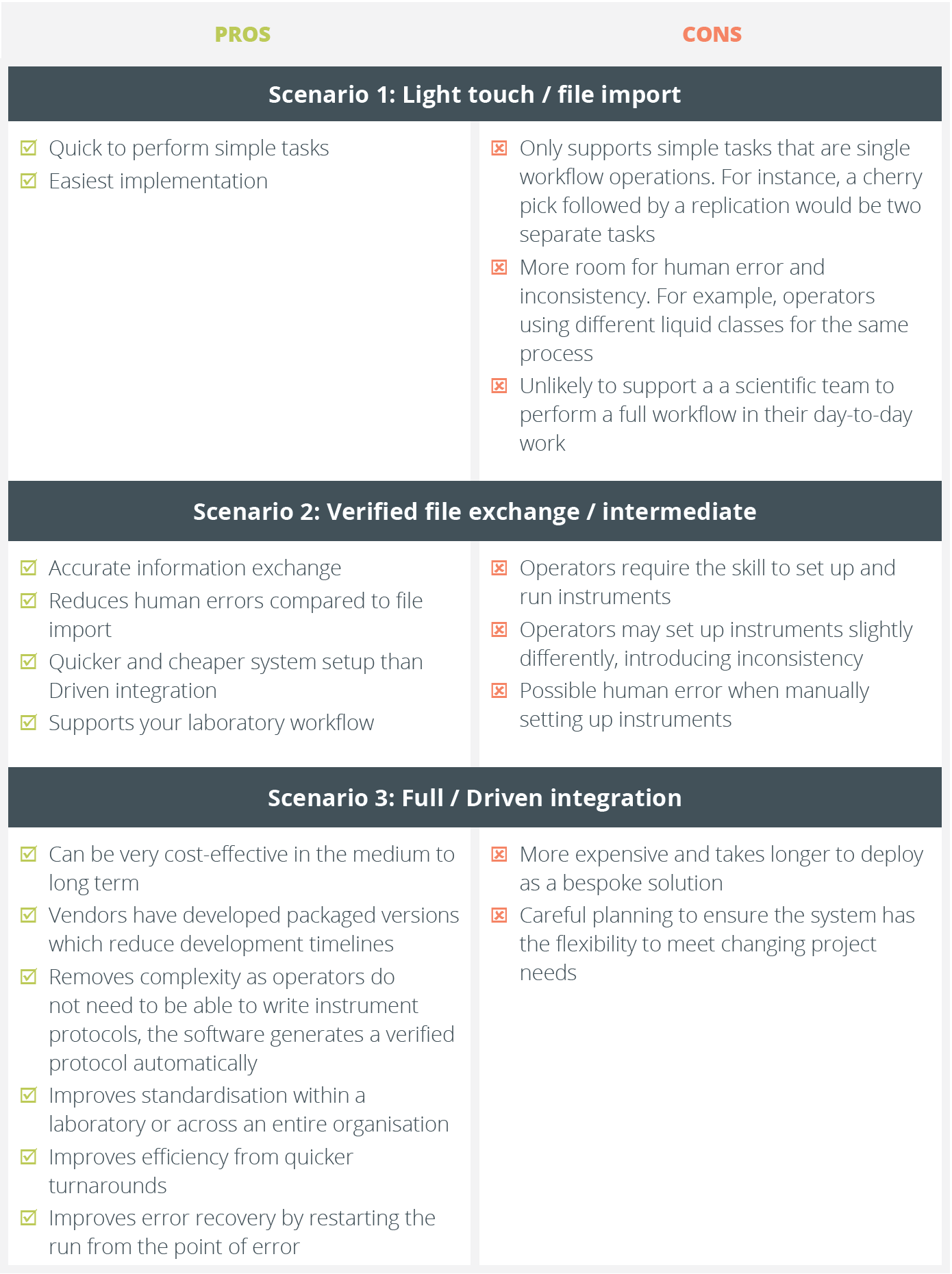 DOWNLOAD THE PDF VERSION OF THIS GUIDE
---