Part 2: The Benefits of Accurate Sample Information
Achieving accurate information
Registering materials and recording properties
Knowing the locations of your tubes and plates is only useful if you also know what they contain, so the recording of materials and their attributes is essential to good sample management.
However, despite the best efforts of an organisation to register materials and record their attributes, if materials are described in inconsistent ways the value is limited. It becomes almost impossible to perform a search for a sample without knowing every possible synonym. Figure 1 shows a real example of the diversity of descriptions captured for a single reagent type:

Image: How many ways can we say "Genetecin"?
This is a common problem with databases and spreadsheets. What is needed is software that will allow you to define substance attributes easily, and enforce accurate and consistent description using controlled vocabularies. As well as drop-down lists of values, other property types should be available - such as dates, numeric fields, and free text where appropriate. An administrative user should be able to set all of this up via an easy graphical user interface.
How much of the sample is there?
Recording the amount of a sample will use different units depending on the material type – for example mg for solid materials, "number of slices" for a tissue block, mL or µL for solutions. However, the vocabulary of amount units needs to be controlled to ensure that amounts are recorded in a standard way.
A typical lab problem is forgetting to update the remaining amount after a quantity has been removed from a tube. Sample management software should automatically decrement amounts for you when you create a new tube from an existing one, with the transfer out being recorded in the audit trail.
If the amount of a sample isn't recorded and tracked, you may not know if you have sufficient for your needs without manually inspecting your inventory, which could be time consuming. Worse than that, you may retrieve a tube at the point of use and find it is empty. Wouldn't it have been better to know in advance so that stocks can be replenished?
Consistent and accurate concentrations
When using biological substances, the concentration units being recorded will depend on the material type – for example mg/mL, cells/mL, mM, OD. But even for a single type of material, scientists may express concentration in a variety of different ways. Unless you have some means of providing a controlled vocabulary of concentration units, you may end with information that is difficult to interpret. Figure 2 shows a real example of the proliferation of ways of recording concentration where standard units were not enforced.



Image: Different ways of quantifying the concentration of cells when no control is in place
Even if a concentration is captured correctly, when a sample is diluted the record needs to be updated accordingly. In practice, this is not always done if it is not simple to do. To make lab tasks easier, good sample management software should understand concentration units and the relationship between them. For example, when a lyophilised protein or DNA sample is resuspended, the concentration should be automatically set, or when a sample is diluted by adding some more buffer, the resulting concentration change should be automatically calculated and recorded.
Frozen or thawed?
Many materials, such as siRNA and some purified proteins, degrade with repeated freeze-thaw cycles. Tracking these freeze-thaws is a headache for many scientists.
Software can take care of this tracking for you. Ideally, it should allow you to specify a temperature for each of your stores and locations, and automatically record a freeze or thaw event as your materials are moved into, or out of, a freezer so you no longer need to track this separately.
Searching your inventory
Having a well-described inventory allows more efficient use of the valuable materials that may be held in your organisation. To achieve this, your inventory needs substance types and properties to be defined and rationalised, together with easy to use query tools. However, being able to find materials should not mean a free-for-all, as access to some substances needs to be carefully controlled.
Making the most efficient use of your stocks by searching
Titian Software has encountered situations where money has been wasted on re-synthesising an expensive material when a colleague had a surplus of it in a nearby freezer – but there was no easy way to know this. In too many cases, finding of materials involves asking around, emailing colleagues, or finding out in project meetings, when a simple search ought to take you straight to the material.
Sample management software should allow you to flexibly search on any number of properties, either across your entire inventory or within specific locations. Ideally, you can save frequently used searches for quick re-use, and to be able to search results for further analysis. It should also be possible to limit the visibility of locations of materials, so the whereabouts of sensitive or valuable samples is only shown to those with the appropriate permissions.
Keeping samples for the right amount of time
Expiry or review dates
One of the hardest aspects of sample management for a busy laboratory is that of managing expiry or retention dates. There are several reasons why samples may be associated with an expiry or review date, including:
Critical reagents for bioassays must be regularly re-qualified to check that their behaviour in an assay is within expected limits3
There may be a legal maximum retention period, for example: time limited consents for human derived materials4
Some sample types may lose viability after a period of storage and need to be re-passaged or otherwise managed
There may be a service level agreement in place to retain customer samples for a set period, after which they will be archived, returned or destroyed
In maintaining compliance with good laboratory practice (GLP)5 , to avoid using deteriorated or outdated reagents or using materials no longer authorised for use
Some of the challenges of managing expiry dates include:
Finding samples that have reached a retention or expiry date
Warning scientists that they are using a substance that has passed a retention or expiry date
Recording the disposal or archiving of samples because of a particular time event
Recording that a reagent has been re-qualified, and resetting the expiry date
Tracking all of this using only a spreadsheet would be significant undertaking. A good sample management system should give you the tools you need, allowing you to record specific expiry or retention dates against any batch of material, and report on or take appropriate action. For example, you may need to quickly find samples that have reached, or are close to, an expiry date, then list their locations to make it easy to pick and dispose of them.
Alternatively, to re-qualify reagents following Quality Control, a batch of material might be edited to set the new requalification date – and this should automatically be reflected at the sample level for each sample or aliquot of that material. In every case, each of these steps should be fully recorded in an audit trail.
To prevent accidentally using a substance beyond its expiry date, sample management software should clearly display a warning against expired samples at the point of pulling a sample from a freezer.
The right samples in the right containers
Laboratory materials are typically stored in a wide variety of containers, for example different brands and sizes of tubes, multiwell plates, flasks, blocks or microscope slides. When managing a sample inventory, it is of course important to track key information such as sample ID, volume and concentration. It is perhaps less obvious as to why it might be valuable to track the type of vessel it is contained in. Here are two real use cases where accurately recording container type information leads to process efficiencies
Case 1: Where can I store this type of container?
Fridges and freezers may be physically arranged such that some shelves contain stacks for holding microplates while others may contain boxes holding a particular size of tube. However, researchers may not necessarily know how each store is arranged and how shelves are allocated. The search for relevant space not only wastes time and is frustrating for the scientist but also means freezer doors are being opened and closed unnecessarily.
A good sample management software can address this by allowing you to accurately represent your store layouts to include information on which labware types can physically be stored on which shelves. The software should then be able to guide you to where there is space for the type of container you are trying to store.
So rather than opening many stores to search for appropriate free space for your sample containers, you could let your software automatically assign a space for each of your items. You then just need to put your items away in the suggested locations.
There are several other benefits of labware type tracking, including:
Understanding your labware usage and how many of each different type of labware you are using

Simple reports can generate these metrics

Aiding standardisation

Knowing what labware types you are using might lead you to decide to standardise on certain types and look for bulk purchase savings
Standardised consumables can serve as a common currency when materials move between labs; allowing consistent use of protocols, racks, storage containers and even automation
Standardisation can bring you the opportunity to leverage time saving devices such as 2D barcode rack scanners

Allowing for the later adoption of automation. If you wanted to expand you inventory management system to bring in additional capabilities such as requesting and management of fulfilment using liquid handlers, these instruments require knowledge of compatible labware types and properties, such as the labware's physical dimensions and liquid dead volume
Case 2: I know my sample is in here somewhere!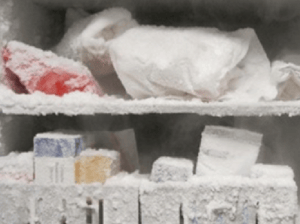 Lab fridges and freezers become cluttered and untidy over time, making material difficult to find. Even if you know which shelf your sample of interest is on, not knowing the exact tube or rack type can make finding it difficult. This image illustrates how knowing your sample is in a 15mL Falcon Tube would greatly reduce the time and effort taken to locate it.
Reducing the time taken to locate a sample also reduces the time an operator has the door open. This minimises temperature fluctuations that could affect sensitive samples and reduces the build-up of ice within the freezer.
To take advantage of container type tracking, sample management software should allow you to define any type of container to make it easy for you to accurately record this information.
Watch the Video: Sample Not Found
Plating up – managing samples in multiwell plates
Laboratories are increasingly using multiwell (or microtitre) plates to increase throughput and manage costs through miniaturisation, or take advantage of automation. Screens are also performed in plates, with samples arrayed for a primary screen to check activity, and then hits "cherry-picked" for the next rounds of screening.
Tracking systems which are primarily designed for individual samples may struggle to deal with samples in plates. If you use, or plan to use, multiwell plates, it is essential to choose a sample management system which fundamentally supports them and transfers made between them, whether they be 96-well, 384-well or even 1536-well. This should include tracking and auditing of all changes to the plates and their contents, such as volume decrementing upon transfer, freeze-thaw counting, concentration, volume changes and any other edits.
Tissue microarrays
A tissue microarray (TMA), or multi-tissue block, is an array of many tissue samples embedded in a block, usually of paraffin wax. Each embedded sample is a core removed from a larger sample. The use of TMAs allows higher throughput analysis of many tissue samples at once in a compressed format, while using a smaller amount of material.
Many of the considerations when using multiwell plates also apply to the use of tissue microarrays. Because these may contain human samples, it is essential that the identity of the sample at every position in the array is known. Each sample should also be traceable back to its parent sample.
Where it is important to track the fate of every one of your samples for regulatory reasons, samples in TMAs and multiwell plates must not be overlooked. Using good sample management software you should be able to identify and find such samples just as easily as any other sample in your inventory, thus ensuring that your sample tracking is fully secure and nothing is unaccounted for.
Labelling
The right information
Getting the right information on to your labels can be error-prone when it is done by manually entering data or importing a file into the printer's software. Sample management software can hold all of this information, and send the correct information for each sample directly to the printer at the time of printing – so your labels are guaranteed to be accurate.
Designing labels should not be a bottleneck in your laboratory. Good software should make it possible to design labels on your screen to match what you will see from the printer.
Label Printing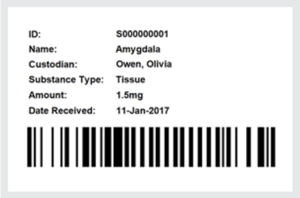 You also need to consider the breadth of printer support.
A good sample management software should be able to print to a very wide range of printers. It should support more than one label size so that you can adapt to the size of the labware you are affixing it to, or include different amounts information depending on the use of the sample.
---